NetGalley Month In Review: December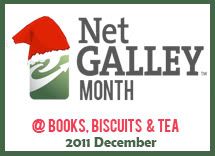 Thanks to
Books, Biscuits & Tea
for hosting!! I love-LOVE the interview with Lindsey Rudnickas! Hop over there for tips on navigating this great site!!
I discovered NetGalley towards the end of November, almost like a birthday present to myself, actually.
Self-Portrait of Me Discovering NetGalley
I read and reviewed...
Here
is my review of
Cinder
. This was my stumbled-upon favorite of 2011, which is totally cheating, since it doesn't come out 'til 2012. I am totally cool with (this sort) of cheating.
My review of
Shadows on the Moon
is
here
. This is one thought-provoking book, I tell ya. Some deep darks and some well-planned triumphs.
My review of
Pure
is
here
. This book contains such a huge idea. What a harsh dystopian world with real people and real emotions!
My final review from NetGalley in December was
God is in the Manger
, which is not your typical devotional advent book. My review is
here
. I recommend this book for everyone who wants
more
to celebrate Christmas.