it's the NEXT Tuesday's Top Blogs featuring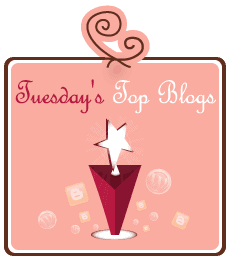 Quoting myself...
I read a lot… it's my fav de-stresser. There's plenty to stress about with a new business in this economy and four kids…. three of 'em boys who think I'm crazy to read so much WHILE I'm luring them into reading, too!! I also write a lot. Pretty much obsessively. Blogging, on the other hand, is New Beans. I'm entirely new to the concept of finding other people who like the same books I do and creating an interesting site. What with being self-employed and managing four different homework schedules, I just feel lucky to be a Newbie!! My five favorite blogs are based on the past year or more. I'm finding a lot of fun new blogs and I hope to have more favorites soon!!
I wrote this back when I just got started bloggin'... what was it? November?! What did I do with all my time before then?!
Hop on over there
to see the blogs I followed that got me goin' in the Bloggin' World. Before I met all y'all awesome bloggers and book-readers, I followed only 5 bloggers tenaciously. Not sure they even know it. (Or want to know it! *ahem!*)
The Bloggers I stalk now are listed under "I'm Watching" in my sidebar. I visit their new posts almost daily. (Not sure they know it, either - or care!! Ha!) Some of 'em I like for ideas on how to blog or for writing great reviews. Some of 'em are Meme's I follow who ask fun questions. Some of 'em are Giveaways I like to keep track of 'cause winning books is FUN!
Thx to Simply Stacie for runnin' a great blog!!
And Featuring great bloggers!!! :-D