New Books
over here!!
To highlight
in the future: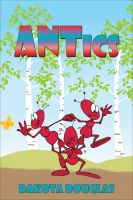 ANTics
looks like a lot of fun, and
for a short time, it's
FREE

on Smashwords
.
The Lost Kingdom by Kris Ellsworth
will be available soon. I'm looking forward to reading it!!! :-D
For review
... no, I'm not accepting any books for review, but somehow I can't stay away from 'em, either. I accepted
The Forgiven Duke
&
Immigration & Adaptation
.
I WON
Mud, Blood and Motocross by Mick Wade
from the
Hopelessly Devoted Bibliophile
, which arrived in the mail this week.
I've been staying away from
NetGalley
'cause I just get sucked in, you know? But I had to download
The Forgiven Duke
, which reminded me that I so want to read
The Girl in the Clockwork Collar
, so logically,
I bought
The Girl in the Steel Corset
to read first.
There's always MORE, you know?
'Cause I have
winners
every week, too, and I've stopped posting about 'em 'cause I get all worked up over writing awesome posts, when really, I can't keep up with myself. Ha! (That's a good thing.) I bought a copy of
Grave Mercy
this week for Ems, the winner of
My Favorite Reads Giveaway
. Congrats!!
Marla in the Phillipines won
The Lure of Shapinsay
+ some awesome swag. I forwarded her info to
Krista Holle
, which was so fun, she's so enthusiastic & generous.
I've been mailing out some swag - it felt like a lot to me, but I'm sure compared to BEA returnees, it was more like what they stuffed in a side-pocket. Lol. I can't wait to see how everyone's trip went!!
As for the signed copy of
Under the Never Sky
, that went to
Arriane Cruz
, which is so fun, 'cause I won Protector from her back in April. And Janhvi in India won the signed hardback of
Shatter Me
.
CONGRATULATIONS, ALL!!
Now I'm going to make myself a banana split because I can!! Lol.