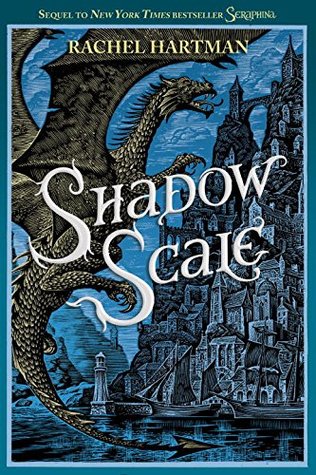 Shadow Scale
by Rachel Hartman
Click on the link to go to Goodreads. I read an early copy from NetGalley.
I loved Seraphina and read this book with high expectations.
I was not disappointed. Much.
I love Rachel Hartman's writing style
and the plot moves quickly, or rather, spirals downward out of control at a rapid rate despite the word count. I was hanging on with white knuckles. (It's bad-bad-bad in a really good sort of way.)
I appreciated the nods to great books, like the Hitchhiker logic from a serious point of view, if that's possible. And Tamora Pierce's influence was evident.
I will always consider the world building unique and vivid.
I didn't need to refresh my memory although I read
Seraphina
awhile ago. It was easy to adjust and jump right in. The way we learn about the "garden of grotesques" and how they each play a part was always refreshing and surprising. I especially liked how each character dis-proved the "grotesque" characteristic once she knew them. I think that is amazingly close to reality. People's personalities affect their appearance, pulling odd things up into the realm of just "unusual" or pulling beautiful features down into, say, "untrustworthy".
The writing and plot and pace all deserve 5 stars, to be honest.
But I left dissatisfied. So... to all the book reviewers who dissect a book without taking into account their own feelings about it, to you I say, "Please review this book and give it your best." I suspect that it will receive a lot of praise for execution. And fans of Tamora Pierce's work might find a new fav author and wear their copy of this series to dog-eared beauty.
For me... for me, love equals commitment and I want justice. As the final scenes settle into places that make complete sense for the story (I suppose), I found myself throwing my hands in the air and starting mental arguments with Seraphina, the author & the world in general.
I'll try not to spoil anything, but my thoughts sort of went something like this:
"So... the glowing light that is the essence of living things really is 'heaven', and we've arrived? And those goofy saints were, in a sense, right?! Seriously?!"
"Please tell me there's more. Nope. That's it. Phooey."
"Well... that inside-out thing is very clever. And well executed. I like that."
"Wait a minute... if that's where Seraphina is going to end up (romantically), why all the hesitation before?! So... people's feelings are The Most Important Thing when settling the answers of love? I mean, I care about people's feelings, but I don't think I care that much when Love is at stake. And that... how in the world will they monitor everyone's Feelings long term in that situation really?!"
"Just... sheesh. So much build-up and then everything fits so neatly in the story, but NOT IN MY HEAD. I'll just re-do that ending my way for myself."
The resolution, to me, was 2 Stars
since I wanted to fix so many large puzzle pieces that it unravels the story and I can't. It won't "fix", it's created the way it is and, honestly, beautiful in the way art is beautiful sometimes, like "What...? Ok, I guess." And anyone who swallows the major concepts easily might find this one of their favorites. *sigh*
Shadow Scale
is clever. Well written. Complicated and yet not hard to "get". Definitely vibrant. Surprising. Memorable.
I grudgingly allow for all the greatness and rate it high enough to estimate up to 4 Stars when I share my review everywhere... at a whopping 3.75.