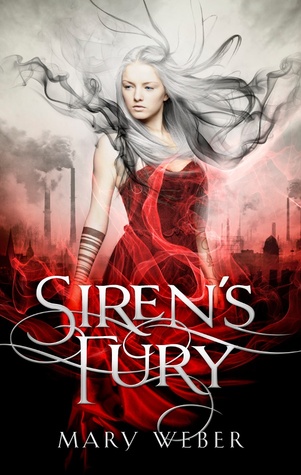 Siren's Fury
by Mary Weber
Hardcover, 352 pages
Expected publication: June 2nd 2015 by Thomas Nelson / HarperCollinsReviewed copy provided by publisher through NetGalley
There are things I love about this book:
- The cover. That's gorgeous.
- The author. I'll explain.
- Vivid writing. Visual, graphic, startling.
- Cast of characters. Unique, diverse.
- World building. See "writing" and "characters" and put them in a large setting where referencing a map is unnecessary even when traversing lots of territory.
My impression of Siren's Fury:
I wanted to strangle most of the things I love about this book.
I kept reading all 352 pages of this book because I trusted the author. That scene in
Storm Siren
where Nym and Eogan go to the Valley of Origin. It's like a nugget of beauty and direction and core values that I could grasp hold of with both hands. I am/was/am committed to these characters and this author.
However, I have never wanted to
stab
the person I love (Eogan)
in the back
so badly and I'm having trouble forgiving the author for making me feel that way. Yes, I mean kill him. Dishonorably.
Because...
losing Colin in Storm Siren is traumatic and makes each death real.
There are no faceless masses in this story. Somehow each person has become a real person whether I see them live or not or even know their story. So close to real life. I could not accept that one person's life justified the death of any/so-many of those non-faceless masses. I could have lived with myself-as-Nym through this book if I would've used the knife at the beginning of the book and condensed the series to 1.2 books. Yes, knife to kill. Dishonorably.
Feeling that way, each step in this story was agony.
I decided it was rather like other middles where darkness appears to triumph and your soul darkens by wallowing in their long victory.
Like The Empire Strikes Back. Whoever says that's their favorite movie out of the original 3 Star Wars movies? It's not a fun movie. The good guy is down and the bad guys triumph. Or The Two Towers is a good example, too. Especially since the bad guys in
Siren's Fury
are shrouded whispering nasties made of piece-meal body parts from people and terrifying creatures.
Yeah, that's the other thing that was hard for me to stomach. Visiting a witch. Swallowing a spider. I'm not really spoiling anything by saying that and I wish I knew it was coming to brace for it.
Eeeeeewwwwwww.
Mary Weber infuses darkness throughout the story in a fantastic killing spree and inside our fair hero. Makes me want to puke just thinking about it.
This book feels like horror.
Will I read the next one?
Oh yeah - absolutely - are you kidding me?!
I made it all the way through
Siren's Fury
and anyone who wants to withhold the final chapter from me would face some of my own fury.
I still trust the author, although I'm quite bruised from this book.
I will never forget the characters and I desperately need to be reminded of the love and purpose we're fighting for and why it's better than having just killed my-as-Nym true love.
How many stars? 3.5-ish.
The writing is 4.5 for me, beautifully vivid. The pace of the story is 4 stars. It keeps moving. But me reading it waffled between 2.5 and 3 stars for literally dragging my feet. I really prefer more hope and romance or just not wanting to kill my true love. Or how about a little more reminder as to why I even love him more than all the people getting slaughtered around me and walking around with zombie body parts? I don't remember how he's so much more uber-awesome than anyone else and I really needed to remember.