The Tour Grand Finale for
Sweet Mountain Rancher
We hope you enjoyed Loree's tour! If you missed any of the stops, feel free to go back and check them out now...
Any parting words?
I hope everyone has enjoyed the summer, and that they'll have a happy, healthy year-end as well. If you're so inclined, I'd love for you to connect with on Facebook, Twitter, Pinterest, or Instagram!
"They were uneasy and clumsy when I tried to hold my newborn son. And decorated with a gold band to show the world that I'd married the most special woman on earth. They trembled when I walked my daughter down the aisle, and shook when I buried my parents. They've helped me hide my face, comb my hair, and cleansed my timeworn body. They're marked by the ruggedness that has been my life.
"Nate Marshall said I should meet him here at noon. If you'll just tell me where to find him…."
"I'm Nate," he said, releasing her hand. "Good to meet you." He'd said those words to dozens of people on dozens of occasions, but for a reason he couldn't explain, didn't think he'd ever meant them more.
Eden tucked her fingertips into the back pockets of her jeans. "I expected you'd be, ah, well, older." Then she plopped a hand on the nearest teen's shoulder. "These are my boys," she said, introducing them one by one.


"The author does a great job with all the characters there are a few but easy to keep up with. I have not read the first book but I have heard a lot about it which helped a little but you won't be lost. I will get getting more books by this author. A great series."


The doorbell pealed, and she stepped quietly from the classroom to get rid of whatever salesman had come calling. But instead of a college student selling magazine subscriptions, she found Brett Michaels on the porch. Every nerve prickled with dread as he swaggered into the foyer, but she forced a cheery smile.


Have you ever wondered how freelance writers make a living? By writing to-the-point articles, turning them in on time…and learning how to resell what they've submitted, that's how. Below, a peek at the method I used to rack up more than 2,500 articles under my byline...


"Sit back and enjoy a great read that tells a story of love, romance, friendship, forgiveness, and even a little mystery!"


"Overall, this was a good book and a nice distraction. Even with my Eden frustration. All's well that ends well. :) I'll be looking for the next book in this series!"


"While Eden's mixed signals toward Nate frustrated me at times, overall I identified too well with her character's need to take everything on to her own shoulders. To me, the boys and Nate gave this book its heart, and I found it difficult to put down the book once I had started. (Even though this is the second book in a series, I did not feel lost from not having read the first one.)"


Have you ever wondered how a book's video trailer is created? Well, I can't tell you about the dozens of hours that a designer puts in to come up with the final product, but I can share what I do to help make her job a little easier.


Did Eden stay in control of her boys with shouts and fist-shaking? Not if those big sincere eyes and the warmth of her pretty smile was any indicator.

"You planning to go back to sucking your thumb, son?"

It took a second to figure out what his dad was talking about. Laughing quietly, Nate put down the butter knife and wiped his hand on a napkin.
"I know that googlie-eyed look," Hank said, smirking. "I'd bet my Greely Stampede Barrel Champion buckle on it…he was off in Lala Land, dreaming about some woman."
"I especially love that Eden has dedicated her life to helping troubled teen boys. She is wonderful at it and is very inspiring!

A very easy read that will stick with you long after you put the book down!"
(Those Marshal Boys, #2)
by Loree Lough
Adult Contemporary Romance
Paperback & ebook, 385 pages (large print)
September 1st 2015 by Harlequin Heartwarming
HE CAN SAY NO TO EVERYONE BUT HER...
Nate Marshall used to be a yes-man... until being so agreeable cost him dearly. But Eden Quinn has a way of getting him to reconsider his "just say no" policy. Which is how a bunch of troubled teens end up at his ranch for the weekend. Nate can't help but be attracted to the woman who keeps them in line.
This cowboy knows Eden's no damsel in distress, yet hers isn't a one-woman job. If she must do everything on her own, how can he help her... let alone get her to fall for him?
The First Book in the Series
Once a Marine
(Those Marshal Boys, #1)
by Loree Lough
Adult Contemporary Romance
Paperback & ebook, 377 pages (large print)
February 1st 2015 by Harlequin Heartwarming
DOES SHE EVEN NEED A HERO?
Summer Lane is no damsel in distress. For the past two years, she's been battling her way back from her worst nightmare, all by herself. So she doesn't need the fabulous former Marine Zach Marshall swooping in to save her.
But she needn't worry. Zach has hung up his shining armor. His instinct to rescue has only brought him heartache, and he's not about to risk it all again--even though everything about Summer makes him yearn to help.
Will she accept his challenge to step up and conquer her fears on her own--even her deepest fears, like trust...and love?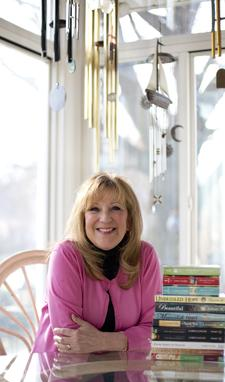 Yes, it's true: Once upon a time, best-selling author
Loree Lough
(literally) sang for her supper, performing before packed audiences throughout the U.S. Now and then, she blows the dust from her 6-string to croon a tune or two for the "grandorables," but mostly, she just writes. (And writes.) Over the years, her stories have earned nearly 100 industry and "Readers' Choice" awards, 7 movie options, and over 80 4- and 5-star reviews.
There are more than 5,000,000 (yes, that's FIVE MILLION) copies of Loree's books in circulation, and in September of 2015, she'll have 108 books (fiction and non-fiction for kids and adults) 72 short stories, 2,500+ articles in print. To date, she has received 50,000+ letters from fans (a carton of books goes to Meredith P. in Joliet, IL -- which she has elected to donate to her local library --for writing the 50,000th letter)!
Loree loves sharing learned-the-hard-way lessons about the craft and the industry, and her comedic approach makes her a favorite (and frequent) guest of writers' organizations, book clubs, private and government institutions, college and high school writing programs both here and abroad.
A writer who believes in "giving back," Loree dedicates a portion of her income to Soldiers' Angels, Special Operations Warrior Foundation, and other worthwhile organizations.
She splits her time between her home in the Baltimore suburbs and a cabin in the Allegheny Mountains, and shares both with her real-life hero Larry, who rarely complains, even when she adds yet another item to her vast collection of lighthouses, wind chimes, and "wolf stuff."
Tour Giveaway
$25 Amazon Gift Card
Print copy of Sweet Mountain Rancher
Kindle copy of Sweet Mountain Rancher
(to be gifted through Amazon)
Open internationally
Ends September 12th
a Rafflecopter giveaway