Please welcome
Helen Mason
to Colorimetry with the following article:
The Best Books About Substance Abuse
From harrowing memoirs to glamourous novels, substance has long functioned as a motivation for authors, with readers keen to lap up tales of a world that is impossible for those not involved to really understand. These narratives, fictional or otherwise, show us the dangers, tragedies, and - in some cases - the fun that surrounds drug use.
One of the most appealing aspects of books that deal with drugs is that they submerge the reader in a world that is often totally outrageous, far removed from the clean and cut rhythms that define so many of our lives. In many cases, it is the memoirs that are the most outlandish, even more so than their fictional counterparts.
In this article, we'll take a look at some of the best books about substance abuse, from absurd takes on a hedonistic society to tales of drug addiction and helplessness. Dive in, and discover a side of life you may never have experienced before.
Trainspotting
The 1996 movie adaptation of Trainspotting, the 1993
novel by Irvine Welsh
, brought the trials and tribulations of being a heroin addict in working class Edinburgh to the big screen, but it is Welsh's novel that really captures the life of a heroin addict. Following the lives of a gang of heroin addicts, we stay with the characters as they follow the trajectory of many young drug takers: using, addiction, health and crime problems, and how it affects their friends and family.
Portrait of an Addict as a Young Man
Bill Clegg's memoir
Portrait of an Addict as a Young Man
initially roused interest because of the profession of the author. A successful member of New York's literati royalty, Clegg's memoir about his crack cocaine addiction should not have been written: people like this do not become drug addicts. But then, of course they do. Clegg details the hows and whys of how it happened and the desperation that followed. Clegg's excellent writing brings to life the murky world he created and the struggle to get clean again.
The Basketball Diaries
It's said that keeping a journal is
an important part of beating addiction
. Jim Carroll, a musician, author, and poet, took this idea and ended up with one of the most acclaimed drug texts ever written. The Basketball Diaries, a collection of diary entries from Carroll's time as a heroin addict in New York City, is a thrilling read. Released in 1978, this book, along with tails of drug abuse and attempted recovery, also captures a moment of time through the eyes of an adolescent who was coming of age in the 1960's.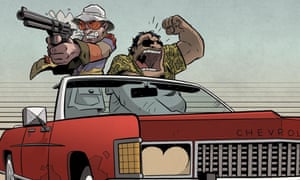 Fear and Loathing in Las Vegas
Reading Hunter S. Thompson's 1971 novel Fear and Loathing in Las Vegas is akin to riding on a rollercoaster. We travel with protagonist Raoul Duke and his attorney Dr. Gonzo as they drive to and then explore Las Vegas
under the influence of a cocktail of drugs
, chiefly marijuana, LSD, and alcohol. Influenced by Thompson's real life adventures, the reader is treated to a close up look at the strange world drug users inhabit while under the influence of narcotics, which is chiefly built around hallucinations and paranoia. This book doesn't deal with drugs in a moralistic, tragic manner; if anything, it highlights some of the reasons why people take drugs in the first place. But look beneath the surface and you'll see there's plenty of trouble brewing.
Scar Tissue
Scar Tissue
, an autobiography by Red Hot Chili Peppers frontman Anthony Kiedis isn't strictly a drug abuse memoir, but Kiedis' long experiences with drug abuse means large section of it are. This is a glimpse into a world that is blocked off from all but a handful of people on earth: one of a super famous, super wealthy, super everything man who also has a serious drug addiction. The ghostwritten memoir details just how low some people, even those who seemingly have it all, will sink to get their next fix, as well as a look into how the death of a friend through drugs doesn't necessarily stop an addict from using. It's the tale of a man with absolutely no barriers to stop him doing what he wants, and the result is a jaw-dropping, highly entertaining read - mostly in part because Kiedis was able to beat his addictions.