Thank you to everyone who participated in the Giveaway!! Thank you for following my blog!!!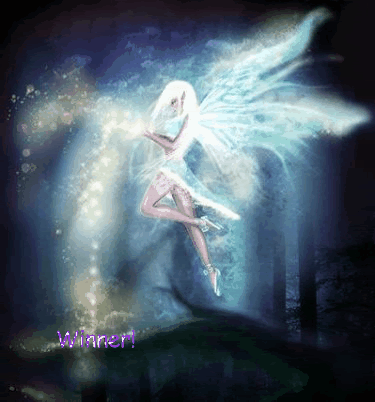 I have thoroughly enjoyed posting pictures of the Faeries as they came in in the Giveaway comments. Some creative types took time to hunt down some beauties. If you didn't subscribe to my blog or get a chance to check 'em all out, review the last week's posts, 'cause they're so beautiful!!
By far the winningest color is PURPLE but that's where similarities end. Every size, every outfit, every style was so different. (Ok, the wings & the ears were similar, too!) I had to list specific books for the giveaway, but I'm open to negotiation, as always. Only, Winner, choose something YOU'LL READ SOON!!!! :-)
And the WINNER is....
Who digitally created her (spooky) answer to the question
"What would you look like if you were a faery?"
Thank you to everyone who entered my Giveaway!! I especially loved all the faery descriptions and pictures... you all made this my favorite giveaway, yet!
THANK YOU!!
Here's some more Beautiful Faeries: