Welcome Sunday Soloners & IMM Hoppers!! And everyone else, too!!!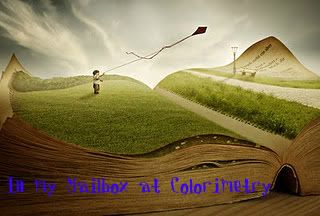 In My Mailbox
is hosted by
The Story Siren
...
I have had a fun week.
All that discussion about genre and what my favorite part of a book is just got me hankerin' to try different things. IMM this week is as varied and different as I could make it...
as if my love of reading depended on it
. It might have been the dive into historical
Rebel Wife
on Friday (which was a GREAT book!!)... or my inner arguments with
Kate
. I'm not really sure, but I love what I did and I hope I read 'em all!! I mean, I WILL!! Yay! jajajajajaja *ahem* I feel buried in books... it's wonderful.
For Review:
From Tribute Book Tours:
...
the angel/warrior team find themselves thrust into a world they know nothing about... more at Goodreads.
...
Welcome to Albert Keane's beautifully designed medieval kingdom nestled in a completely isolated river valley in the Canadian wilderness... more at Goodreads.
This book blew my way from the
Krazy Book Lady
- with a blog name like that, ya gotta look forward to reading it... never mind the awesome premise:
...

the transformation of Recai Osman from complicated man to Superhero (SANDMAN!). Forced to witness the cruelty of the Morality Police in his home city of Elih, Turkey, Recai is called upon by the power of the desert to be the vehicle of change.

(See the whole premise at Goodreads.)
From NetGalley:
Catherine is a soldier. Fast, strong, lethal, she is the ultimate in military technology. She's a monster in the body of an eighteen year old girl... more at Goodreads.
...
describes the traditions and innovations that are the result of thousands of years of civilization in Latin America, across two continents and nearly 20 countries.
More at Annick Press.
From the Author:
Gargoyles, goblins, and Frankenstein's monster on the loose
The world's most frighteningly delicious school lunch. Check out more at Goodreads.
It is 2033, and the world hovers on the edge of explosion as unexplained crop deaths lead to severe global f
ood shortages. More at Rachel's website.
Tell me that's not an eclectic bunch of books?! But wait! There's more!! :-)
I dropped by the local library. I had some cool stuff from
Don't Breathe a Word
that I wanted to share as an enthusiastic Street Team participant.
(Trailer Reveal Wednesday!!!)
Naturally I found myself in the YA section, which is labeled "Teen" (and I can't pass as one, believe me.)
It's been a few months since I had 20 minutes to just lose myself in the bookshelves, and a lot has happened in the last few months...
since I started blogging,
I've found so many books.
I've read so many reviews and I've added SO many books to my Wishlist.
I haven't been requesting all the books I wanted to read from the library because I don't have time (see
SuperPower
comments!!) to read all the ones I got already, you know? So... this was like 20 minutes of mini-heaven. I recognized covers on every shelf. I stacked books in my arms and put them back - over and over. I must've looked funny if anyone was watching - I didn't care. I wanted 'em all!!!
I couldn't walk away with none... These ended up in my arms all the way out the door:
I heard from too many sources that this was one to read... and I never have. It's not even very thick plus it has an Award on the cover and I'm behind in the
Award-Winning Challenge
. I started it already (at Dash's basketball game. Yes, I actually missed his 3 pt shot b/c of this book, darn it! Don't worry, I smothered him in more hugs than he wanted and told the world, so he's effectively embarrassed. I'm a good mom... I just like to read.)
Goodreads Link
.
Libba Bray!! I haven't read any of her books, but I have heard of her everywhere and I loved her comments regarding the Award choices last fall... this book looks so great. I just couldn't leave without it!
Goodreads
.
Ok...
Enchanted Ivy
is a funny choice except I LOVED
Ice
, which I need to post my review of 'cause I read it pre-blogging. It's one of those rare books I read a second time after closing the cover the first time... and I can't bring myself to read Drink, Slay, Love, yet... I mean, she's sipping blood. *shudder* But have you seen that cover for
Vessel
?!?! I'm seriously posting that on Wow this week - it's GORGEOUS!! (sans blood!) Anyway... Durst has left a trail of good reviews, so I gotta read this.
I finally finished
Midnight in Austenland
... I was supposed to be running errands, but I couldn't put it down. The ending caught me by surprise... three times in a row. I kept thinking "phew! Solved!" and something else would pop up. (It's a mystery, you know... with a ball. And beautiful dresses. And kissing!!)
I will leave you with this quote and a Thank You for stopping by my blog!
"The bruises she felt forming on her hop were added to her Things Not Regency Appropriate list.
Mallery held his face close... and touched her lips with a finger. 'You know how much I value your discretion.'"
Have a GREAT Sunday!