There's just no denying how many
Angel Books
are out right now... LOTS.
I'm planning on reading
Dawn of Angels
,
Until Next Time
,
Halflings
&
Angelfall
in March, but that's not even a small percentage of what's out there!!
I thought it would be fun to read these book with more company. If you're reading any of these angel books or other angel books...
join in the Readalong!!
I made these cute buttons to go with
the Readalong
this month. Add the button to your blog or post and
join in the fun!
!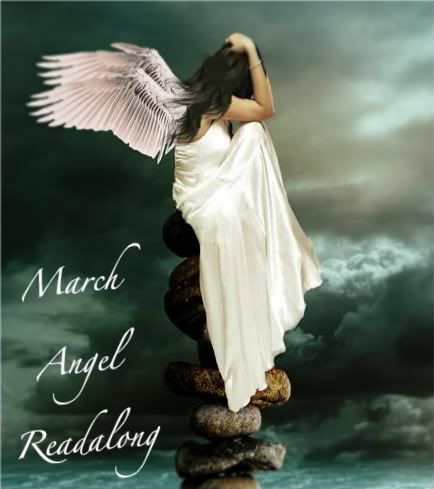 When you review an angel book, add it to the Linky.
Each reviewed angel book will be
an entry in a Giveaway
for another
Angel book
. (If you don't have a blog or somewhere (like Goodreads) to post your review, we can talk about a guest post
so you can still participate!
) I'll keep a
March Angel Readalong Page
to update it with all the books we're finding related to angels or fallen angels for inspiration - for reading or winning.
My main motivation is to read with company.
I've already chatted with
Kali S
,
Miss Vain
, &
Kathy
of
Inside of a Dog
about reading
Angelfall
with me. We're lookin' at the third-ish week of March.
I'd love for everyone to join us, so I've opened this to all angel books.
That way I can get the scoop on 'em nice-n-easy, too! Plus expand the
fun.
Angel Book List:
(For inspiration,
Please remind me of the other ones available and I'll add 'em to my list!!! Thanks!!!
You know what?! I forgot where I put my Linky-attachment-thingame. Totally embarrassing... how do I add a LINKY to this?!?! For now
leave comments
, I guess.... maybe I'll get my act together, but not by tonight. I'm just posting. (Good grief!!)
Updates being moved to READALONG page...