Weigh in Wednesday is hosted by Epilogue...
and it has nothing to do with how much I weigh this week!! I'm not confessin' that!! Naw... it's a FUN DEBATE!!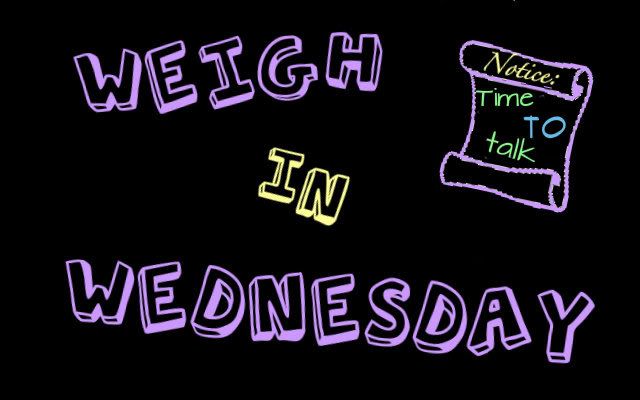 Todays topic:
Love Triangles Vs. Insta-love
Ah... I really don't care about how love plays out as long as there's a reason.
It's a little harder to prove
Insta-Love
, I think. Most of the Insta-Love's I've read recently involve some sort of hormone-type reaction that didn't include brains. It was all sexual attraction. And that, if I may be honest, DRIVES ME NUTS!! If the author can show me how two people found each other and have reason to be instantly in love...
then Insta-Love is my favorite of the two.
That would be because I'm a Believer. I met my man & we were engaged seven weeks later and I still feel like he is the one person I would have fallen head over heals for regardless of when I met him.
Love Triangles
irritate me right from the get-go. I'm not saying I'm not indecisive, but I think it's an irritating character trait to be confused regarding love. Love
Triangles
are not about LOVE, they are about who makes who feel better. Like "love" = "feeling good", which debases the beautiful idea.
The only way I can swallow a
love triangle
is if it makes sense. Like "love" might be the direction a relationship or two or three or four is moving in, but there's still too many questions to know for sure.
Like unhealthy attractions are kinda fun. I'm posting
The Lure of Shapinsay
tomorrow, and that love was so darn unhealthy that I was riveted and the big question was, was it real as well as unhealthy?! There's no triangles in Shapinsay, it's just a good reason for why I would tolerate a triangle.
Hypothetically.
What about you? Why do you feel that way?!