What a memorable Friday!!
Let's do something significant!! :-D Doesn't that sound like a good idea!!
Then you can remember & say "I decided to do that on Friday, the 13th!"
Or "I caused all that trouble..." or "I broke my foot entering the hospital on..."
Right... that stuff just happens without much planning. I, for one, am so glad to see Kathy @
I Am A Reader, Not A Writer
back up-n-rollin' with her awesome "hobby" of blogging.
We missed you!!
I keep finding fun things I want to do on a Friday
- any Friday, but especially this Friday.
My favorite Friday event is the totally awesome
Feature & Follow hop
hosted by
Parajunkee's View
&
Allison Can Read
:
I haven't been able to participate in WEEKS!! Such a tragedy. (Non-participation.)
There's always so many new bloggers to meet, not to mention so many fav's to hop by & say "hi!" to!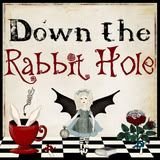 I found this new fun thing on
Down the Rabbit Hole
on
Fridays
where Amber posts pix of some cool fairytale sort. And I love pix. And Fairytales.
This week she posted about Mulan.
How fun, hey? Wanna hunt down some Mulan pix & post with me?! I didn't know I would want to when I woke up this morning, but
that's what you can expect out of a Friday like today... lots of surprising delights!!
This week... all week, actually, I've been chatting with
Sasha Soren
regarding
yesterday's very playful post about mermaids
, etc, etc, and did you know
she posts Reading Nooks every week?!
Oh yea. It's true. I'm always dreaming about where I'm reading in peace & quiet - something reality doesn't offer.
So... this is a muddled post of Too Much Fun this very fine Friday.
As for Real-Life Friday...
... I'm driving across town to pick up some more raffle prizes from generous businesses for the Totally Awesome Cruise-In comin' up in August (as
I posted about this week
). AND... pausing at a pool to
take my tadpoles swimming.
(That's how "a spoonful of sugar helps the medicine go down" -
playing WHILE working.
The only way to "work" on such a great Friday!!)
Ok... so here is a medley of all my stuff.... READY?!
Q: What drove you to start book blogging in the first place?
Thx for asking,
F&F
...
I started blogging with high hopes of writing better
. It's an impossible quest, I realize now, and I've gotten sidetracked winning & giving books & meeting great book bloggers.
Which picture of Mulan do you like best?
1. Pure Intentions
2. Demure Daughter
3. Heart of a Warrior
4. Strength and Beauty
5. Hidden Identity
6. Tears of Hard Choices
7. A Woman of Many Secrets
8. Humble Savior
Finally...
A Nook to Enjoy my delightful summer reading...
Leave me a comment, so I know you stopped by!! I'll be sure to return the visit and follow-follow-follow!! Thank you!!
P.S.
Today only... get Until Next Time for FREEEEEEE!!!!!!