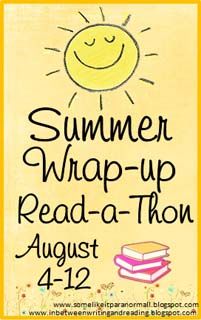 The real question is, where is summer going?
The evidence does not lie. Another
Monday
rolls around bringing us all closer the
end of summer
, if there's any left. (Some dare to return to school today!)
The Summer Readathon
is done and the Olympics ended. Yep. No more watching awesome London? It's time to think about school clothes & supplies for all the kiddledids around here.
And yet, I find time to read!!
Well... not as much as I wanted to, but still.
I finished
Vampire Academy
& I'll post my review soon along with my review of
Half-Blood
followed by some thoughts on the similarities between the two. That'll be fun.
I have nearly finished
Glass Houses
.
I paused right at the grand finale, which I do sometimes when I think I know what might happen next.
I was wrong about
Seeds of War
... Fi and Asher are not married, yet. They did, however, visit a dramatic..... well, no spoilers. You'll have to find out like I did!!
I started
Palace of Stone
, which I have read mostly at the football field during conditioning camp while "watching" Bear practice. I nearly missed him runnin' during a gripping scene with Miri, Frid and Esa and then Miri was thrown... well, I really can't say.
So, that's what I'm reading.
Thx to Sheila @ Book Journey for hosting
It's Monday, What are you reading?
What are you reading?
I have plans for this week... my sis is visiting from Mexico City. We'll chat over "doosies". Ice tea for me & Diet Pepsi for her. Then we're off to the campground with all the fam. I'll bring lots of books to share with everyone, and I'll be finishing these three books, no doubt. There'll be more doosies & lots of chatting. Maybe a little ladder ball. Have you played that? I'm horribly competitive.