Hosted by Jude @ In Between & Jennifer @ Some Like it Paranormal...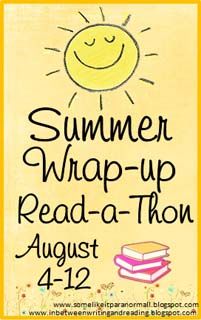 Oh yes... I'm reading!! I know... it's already Day #2. Well. I'm here. I'm just READING!! Lol.
I've started
Seeds of War, Vampire Academy, & Glass Houses
... and I hope to read
Palace of Stone, The Gunslinger
, and maybe
The Ship Who Sang
. (Click the covers to find 'em on Goodreads.)
I just finished
Crystal Singer
. It wasn't on my schedule to read at all. Again. But I'm glad I did!!
If anyone's lookin' to get their hands on some free e-books to review,
The Young Adult Bookclub
is really awesome. That's where I heard about Jude's great readathon. Are you thinking about joining a Readathon? I think you can still sign up
HERE
with almost 300 other enthusiastic readers.