The Emperor's Conspiracy
by Michelle Diener
Paperback, 336 pages
Expected publication: November 27th by Gallery Books
Premise:
From nineteenth-century London's elegant ballrooms to its darkest slums, a spirited young woman and a nobleman investigating for the Crown unmask a plot by Napoleon to bleed England of its gold.
Chance led to Charlotte Raven's transformation from chimney sweep to wealthy, educated noblewoman, but she still walks a delicate tightrope between two worlds, unable to turn her back on the ruthless crime lord who was once her childhood protector.
When Lord Edward Durnham is tapped to solve the mystery of England's rapidly disappearing gold, his search leads him to the stews of London, and Charlotte becomes his intriguing guide to the city's dark, forbidding underworld. But as her involvement brings Charlotte to the attention of men who have no qualms about who they hurt, and as Edward forges a grudging alliance with the dangerous ghosts of Charlotte's former life, she faces a choice: to continue living in limbo, or to close the door on the past and risk her heart and her happiness on an unpredictable future
I received a copy of
The Emperor's Conspiracy
from Edelweiss. It was cover-love, I admit it. But after reading
Michelle Diener
's book, I had to rave personally. I believe I wrote her something like, um,
Wow!! I couldn't put it down!
And some other stuff. *ahem* She kindly offered to stop by for a visit AND give away a new print copy of her book!!!
Why do you write historical books?
I've always been fascinated with history. I studied it at university, and continued on reading historical reference works after I graduated. What fascinates me most of all is how true it is that the more things change, the more things stay the same. How we deal with situations, our reactions to events, is repeated over and over through time. When I write historical fiction, I love twining what we know of the facts with what I can imagine people living through those times might have thought and done in those situations. It's like time travel, only without the danger of being lost in a stray vortex or dealing with the plague at the other end. :) And there are flushing toilets!

Lol. I do like my toilet, I guess. But sometimes I wish other things were like times past!!


I love the low society with the chimney sweeps and the crime lord. How accurate is the time period in your new book?
As accurate as I could get it. I drew from primary sources, both novels and diary accounts from the time (my favorite, and it has been since I was a teenager, is The Water Babies by Charles Kingsley) as well as research books like The Regency Underworld by Donald Low. For background on the life in the rookeries, I read books like The Worst Street in London by Fiona Rule and similar historical research.
What's your favorite scene in The Emperor's Conspiracy?
Oh, that's a hard one. I love the scene on the street with Edward, where he forgets himself and reaches out for Charlotte. I thought that was a poignant moment in the book, where Edward can no longer deny his feelings for her. But I also love the moment in Luke's den where Charlie confronts him, and really lays her feelings on the line. It was a liberating moment for her, and a massive step forward for her personally.
Ooh, there is so much tension between Charlotte and Edward... and Charlotte and Luke. I couldn't wait for the next encounter! Plus... Charlie is the awesomest nickname for Charlotte!!
Please share something personal!! What do you do in your free time? What does your writing space look like?
I have two young children who are involved in a lot of after-school activities, so my 'free' time is spent driving around most days of the week. But it is surprising how much can be written at swimming class, as long as you don't end up next to a grumpy toddler, or get too close to the pool. Chlorinated water and laptops don't go well together. But when I have real free time, I love to bake, and I love to read. I also try to walk around 5 kms most days. I walk the kids to school and then carrying on walking. It helps me sort through the next scene I'm going to write. As for my office space, I have a great desk that forms an L, and I try to keep it relatively clear (I'm a Virgo :)).

Um... yea. I can relate with writing in weird places. Clear desk space? *cough* Isn't clear desk space an invitation to create new piles? I thought I got a memo on that.


I'm so glad you loved the book. I wrote the original outline in 2006. I'd been thinking about the story for five years before I wrote it, and it morphed quite a bit from first conception to final execution. It started out much lighter, but to do justice to the material, and stick to the reality of the times, it ended up being a lot darker.

I love that darkness. I love the attention to so many details. I really did love your book!!!


As for the cover, with my first books, In a Treacherous Court and Keeper of the King's Secrets, my input was simply, 'I'd like something that shows, even subtly, that my main character, Susanna, is an illuminator.' That's all I came up with. Simon & Schuster's art department did that beautifully with the title font and the flourishes down the side of the cover, and just outdid all my expectations with the images. But when my editor let me know The Emperor's Conspiracy cover conference was coming up, and did I have any suggestions, I found I had a really strong image in mind. I told her I liked the idea of the rear view of a woman walking down a slum street in her Regency gown. I didn't give any more details than that, but the art department delivered in spades. I think the end result is really spectacular.
I don't usually pick my next read based on a cover. Like, never. But I'm soooo glad I did!! I really can't wait to read your other books, too!! Thank you for coming, Michelle!!
I'll post my review soon!! (I put my notes somewhere around here *shuffles through assorted piles*)
About the Author: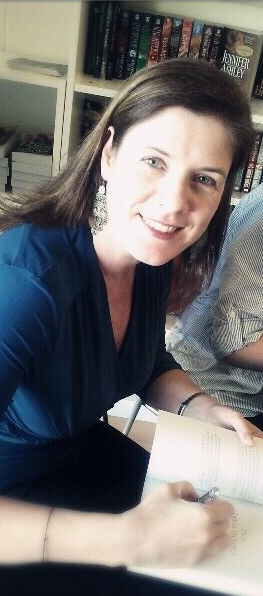 Michelle Diener
writes historical fiction. Her Susanna Horenbout and John Parker series starts with
IN A TREACHEROUS COURT
. Set in the court of Henry VIII, it features the real historical figures of artist Susanna Horenbout and Henry's Keeper of the Palace of Westminster and Yeoman of the King's Robes, John Parker. It was followed by
KEEPER OF THE KING'S SECRETS
, also featuring Susanna Horenbout and John Parker, and
DANGEROUS SANCTUARY
, a short story with the same characters, set between the two books, is currently available as an ebook only.
A new historical novel, set during the Napoleonic Wars in London in 1811,
THE EMPEROR'S CONSPIRACY
, is set for a November 27th, 2012 release.
Michelle also contributed a short paranormal story to the
ENTANGLED
entitled BREAKING OUT. All the proceeds of the sale of ENTANGLED go to the Breast Cancer Research Foundation.
Michelle grew up in South Africa, and now lives in Australia with her husband and two children
Get Your Copy:
Barnes & Noble
The Book Depository
(Dec 6)
Amazon:
Reviews:
Excellent Library
New Books on my Shelves
Watch for mine!! :-)
Giveaway:
US only, print copy of
The Emperor's Conspiracy
compliments of Simon & Schuster. Must be 13 to enter. See all my rules under the About tab.
a Rafflecopter giveaway