Available TODAY!!
The Emperor's Conspiracy
by Michelle Diener
Paperback, 336 pages
Expected publication: November 27th by Gallery Books
Premise:
From nineteenth-century London's elegant ballrooms to its darkest slums, a spirited young woman and a nobleman investigating for the Crown unmask a plot by Napoleon to bleed England of its gold.
Chance led to Charlotte Raven's transformation from chimney sweep to wealthy, educated noblewoman, but she still walks a delicate tightrope between two worlds, unable to turn her back on the ruthless crime lord who was once her childhood protector.
When Lord Edward Durnham is tapped to solve the mystery of England's rapidly disappearing gold, his search leads him to the stews of London, and Charlotte becomes his intriguing guide to the city's dark, forbidding underworld. But as her involvement brings Charlotte to the attention of men who have no qualms about who they hurt, and as Edward forges a grudging alliance with the dangerous ghosts of Charlotte's former life, she faces a choice: to continue living in limbo, or to close the door on the past and risk her heart and her happiness on an unpredictable future
My Review:
*Huge sigh of satisfaction* This is
THAT
book, the one where history melts into the background, the writing disappears and players emerge spitting character and bold love so that...
I sigh
.
Charlotte - Charlie - is a great character.
She's headstrong and intelligent.
Her guardian/savior is the sweetest, smartest lady. It's a household of two great brains with different kinds of strength and I loved seeing the strong women.
Charlie's childhood friend, the crime lord, is so dark and mysterious and powerful.
I loved the dirty grit of the streets and the society that pulsed beneath the city. There's no fluffy cuteness about it... it's as real as poverty.
Edward Durnham really doesn't have much of a chance of participating in Charlie's life or in this story, but
he's stubborn and persistent and won't take "stay away" as an answer.
He causes more trouble than he helps, sometimes, blundering where he doesn't belong. But his heart has been awoken and he understands Charlie in ways no one else can. I love his view of her and their romance is delicate and fresh.
I could hug
the pacing
... this book is hard to put down. It flies by. I might have been frustrated only because
it ended
and I could have continued reading their story for a long time.
My Rating: 5
-
I need this book in my library so I can reread it often!!
(I rec'd my ARC from Edelweiss.) I love a story that doesn't center around romance, but yet has some... a story that has so much tangible history, but doesn't clobber me with it... a mystery that I can't second-guess and is not overbearing.
This is one of my favorite books this year.
Like this, Like that...
I was reminded a little of
Soulless
,
Alanna
, &
Crown Duel.
There's a bit of mystery and smart players, a great thief and underworld, but also a play-acting society where appearances rule. I loved the smart new combination of some of my favorite elements!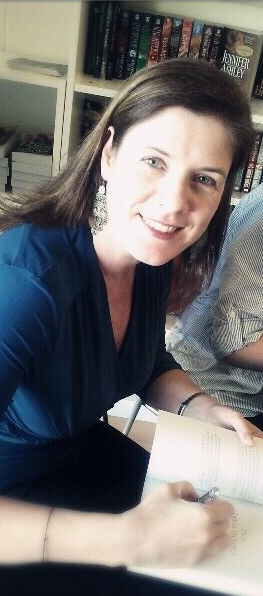 Michelle Diener
writes historical fiction. Her Susanna Horenbout and John Parker series starts with
IN A TREACHEROUS COURT
. Set in the court of Henry VIII, it features the real historical figures of artist Susanna Horenbout and Henry's Keeper of the Palace of Westminster and Yeoman of the King's Robes, John Parker. It was followed by
KEEPER OF THE KING'S SECRETS
, also featuring Susanna Horenbout and John Parker, and
DANGEROUS SANCTUARY
, a short story with the same characters, set between the two books, is currently available as an ebook only.
A new historical novel, set during the Napoleonic Wars in London in 1811,
THE EMPEROR'S CONSPIRACY
, is set for a November 27th, 2012 release.
Michelle also contributed a short paranormal story to the
ENTANGLED
entitled BREAKING OUT. All the proceeds of the sale of ENTANGLED go to the Breast Cancer Research Foundation.
Michelle grew up in South Africa, and now lives in Australia with her husband and two children
Get Your Copy:
Barnes & Noble
The Book Depository
(Dec 6)
Amazon: