by Robin Lafevers
Expected publication: April 2, 2013 by Houghton Mifflin Books for Children
Premise:
Sybella arrives at the convent's doorstep half mad with grief and despair. Those that serve Death are only too happy to offer her refuge—but at a price. Naturally skilled in both the arts of death and seduction, the convent views Sybella as one of their most dangerous weapons.
But those assassin's skills are little comfort when the convent returns her to a life that nearly drove her mad. Her father's rage and brutality are terrifying, and her brother's love is equally monstrous. And while Sybella is a weapon of justice wrought by the god of Death himself, He must give her a reason to live. When she discovers an unexpected ally imprisoned in the dungeons, will a daughter of Death find something other than vengeance to live for?
This heart-pounding sequel to Grave Mercy serves betrayal, treachery, and danger in equal measure, bringing readers back to fifteenth century Brittany and will keep them on the edge of their seats.
I am a hopeless fan of LaFevers writing. There's no way I'm not prejudiced forever to love her books after reading them. I shall try to find some logic behind my madness.
Dark Triumph is Sybella's story. It has a different flavor than Grave Mercy did that makes me want to compare Sybella and Ismae. The premonition I felt through Ismae's view of Sybella? Yea… Sybella is that dark and emotionally messed up… and worse.
That LaFevers could slip inside her near-insane mind so that I believed and felt every raw emotion… is just magical.
I am not saying Sybella and I are buddies. This girl scares me. Lol. She's got so many layers of issues. She has to dig deep to uncover good intentions – she doesn't even know her own mind well enough to trust herself at the beginning of the story. And she's so ruthless. Her internal struggle is not about whether she can kill or not, no. She's good at killing and she enjoys it, too. *shiver* Instead, she has to uncover why… and her purpose is buried under horrible memories.
She doesn't find herself without Beast's help. I could not wait for her to find him, to see how these two would get along. Especially when the Beast turns out to be not so different than the stuff in Sybella's nightmares, and yet he is also exactly opposite. Their relationship did not unfold like I had anticipated at all. I pictured Sybella nursing Duval's friend, the big guy, Beast, back to health in the castle dungeons where she finds him, where she sneaks around stealthfully.
No… rather, Sybella's situation in the castle is downright precarious and her relationship with that horrible d'Albret – all of 'em – is more monstrous than I had anticipated. (Do not spoil this. Good grief. I cannot believe reviewers spoiling books before they are even published. What is up with that?!) Everything I had imagined before reading was "cute" in comparison to Sybella's reality.
I can't say this story is perfect because I would not wish Sybella's life on anyone. By the end of the story everything is explained, even her madness when she shows up at the convent. The convent's dealings with Sybella are even more ruthless and heartless than with Ismae. They really felt she was un-savable and spared her no pain or hardship. There are less political power-plays and more inner development in this story… but knowing and remembering everything from Grave Mercy helps complete the entire backdrop.
Plus… I love seeing Ismae & Duval a few times!!
Beast… is so perfect. He has such a frank acceptance of himself that he applies to Sybella. He has enough horrors in his past for each of them to find understanding hope with each other. I just… I never could have guessed how these two were so perfect… and I still ache over all the why's of how they fit together.
The gods are back with a new addition. Sybella has her moment with Mortain, but that wasn't the highlight for me. Rather, meeting the god of the outcasts - or, more precisely, meeting the charbonnerie, a people who survive in the forest making charcoal who serve the Dark Mother. This is the secret heart of Sybella's story:
"She is a fierce and loving god who especially favors the fallen, the scarred, the wounded, and the castoffs. She rules over those places where life rises up out of darkness and decay. The first green shoot in a forest devastated by fire... the darkest hours of the night, just before dawn, belong to her. The moment when all hope is lost, and yet you dare to hope one more time. That is the power of the Dark Matrona."
This story is downright painful. More bitter than sweet. Like dark, dark chocolate… refined to smooth purity in all its dark glory.
I recommend this book with a warning: There is incest, pleasure in killing, & lots of blood. Anyone who felt qualms over where Grave Mercy dared to go should realize this book dives three times deeper. Political twists are replaced with psychotic twists. *sob* I love it.
Cover Commentary: Perfect! Sybella is dark and mysterious and she wields knives with skill. She infiltrates the bad guys, so she doesn't have weapons hiding all over her person, like Ismae did. Sybella is ready for a pat-down at any moment, and yet deadlier than any weapon-loaded handmaiden of death. She's in a dark dungeon-y passageway... which is exactly right for the story and for her soul. Remember how Grave Mercy's cover says "Why be the sheep when you can be the wolf?" This cover says "Vengeance is Divine." *snort* Also perfect.
I rec'd my (signed!) ARC from Robin LaFevers despite drooling all over
Grave Mercy,
the only book I read twice in 2012. All my reviews are my honest opinion, whether LaFevers wanted slobbering fans or not. Sometimes I cannot fan-girl neatly.
The Awesome Author: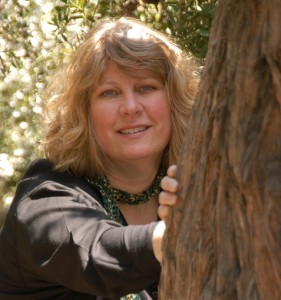 Robin LaFevers was raised on a steady diet of fairy tales, Bulfinch's mythology, and 19th century poetry. It is not surprising she grew up to be a hopeless romantic.
Though she has never trained as an assassin or joined a convent, she did attend Catholic school for three years, which instilled in her a deep fascination with sacred rituals and the concept of the Divine. She has been on a search for answers to life's mysteries ever since.
Many of those answers still elude her, she was lucky enough to find her one true love, and is living happily ever after with him in the foothills of southern California.
In addition to writing about teen assassin nuns in medieval Brittany, she writes books for middle grade readers, including the Theodosia books and the Nathaniel Fludd, Beastologist series. You can learn more about those books at www.rllafevers.com.
Pre-Order Your Copy:
Barnes & Noble
The Book Depository
Amazon: