The Legendary Tour
As the lighting blazed in a dancing, arcing column to the sky, a voice deep and powerful as thunder said, "My son, today my powers are bestowed upon you."
This tour goes back to the age of legends. The author has taken a deep dive into rich history, bringing his love of fantasy with him.
GUEST POST
When Guiamo Takes a Stroll
While writing the Guiamo Chronicles, Marshall Best would often joke with family and friends about ideas for titles of the book. Silly titles such as "Fishing Time for Guiamo" and "Guiamo Takes a Stroll" were thrown out. When I asked him for ideas for this post, he said jokingly, "Guiamo Takes a Stroll." I decided why not! Marshall hopes to travel to England and Ireland someday to see and experience the places in his novels. We asked him to share where he would plan to visit. We hope it will give you a taste of the extent to which these countries and their history are involved in The Chronicles of Guiamo Durmius Stolo.

"There are several historic places I would love to visit in Britain and Ireland that are included in the Guiamo Chronicles. Much takes place in Wales, so while certain famous sites such as Caer Londein (London) and Caer Ebrauc (York), are mentioned and play their role in the story, I'd spend more time exploring the remains of Caer Usk (Caerleon), and other iron age forts such as Caer Deva and Din-Gwrygon on the Wriken. There is a Roman city of Bullaeum that went by the name Ebocella before the Romans arrived, and this plays an interesting part of the story as the chief city of a contentious tribal chieftain. Stonehenge is mentioned, but not by name, and it has an interesting purpose for the Fomori which dominate much of the island."

"Din-Gwrygon is a central location for much of the stories. Guiamo has befriended the tribal king, Ruadri, and this has become his home away from home. Ursius also lives here as do many of his other friends, Aoi, Crinchinbel, the Druid, Abartach, and Bé Chuille, a valiant woman who wins great battle honors. Caer Usk is the site of an armory that Guiamo has built wherein he keeps the god-forged tools he uses to build powerful weapons he needs to fight dragons, trolls and even the gods."

"In book 5 yet to be released, there is a rock quarry near Barry hard against the ocean that dates back to this time and plays a role in the story. That'd be a wonderful thing to see. I'd love to be able to walk these sites and visualize the forts and the battles fought there in my stories. As an author, I hope that my descriptions are true to the actual topography and no glaring mistakes are ever discovered."

"In Ireland, probably the foremost site is the hill of Tara which plays a prominent role in the story. That would be fabulous to explore. The chief cities of Leinster, Ulster, Munster, Mide and Connacht are described by the names Emain Macha, Caisel, Almu, Cruachan (though I call it Slaet-Ceite which has the same meaning) and Temair. I'd love to explore the region around Killarney where some primary characters eventually come to settle."

"Now, I took the liberty to create a city which I named Gaidibmáin. It would lie between Waterford and Wexford. I could walk the beach there and show where the Cruthin people landed and created their first foothold city, which became so pivotal in the Guiamo Chronicles. I could look out to see where the island is, and there I could picture dragons fighting against ships at sea as they raced toward the safety of land."
Christy Nicholas has generously offered a free copy of her e-book on Ireland to go along with an e-book of Morlanos. Her book not only has pictures of hidden places in Ireland but discusses some of the history involved which you will find woven into Morlanos.

To read more about Christy and her love of Ireland, visit the Guiamo Chronicles Blog later during the tour.
Combining legitimate legends with actual historical events,

Marshall Best

weaves an epic story that portrays the ancient world as it might have been, a world which the ancient historians recorded as fact; a time when gods ruled the earth and strange creatures dominated the land. It is the era of civilized conquerors exploring distant and primitive new lands. Scant recordings left to us today only touch on the fringe of the fantastic and brutal reality that existed in those distant lands of the west.
Into this age, young Guiamo enters the world stage as the great game-changer, and by his hand the gods and beasts become destined to disappear into myth and legend.
The Chronicles: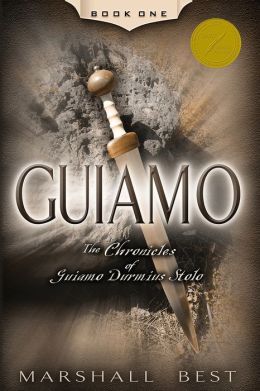 Guiamo
In 60 B.C.,
ten-year-old Guiamo Durmius Stolo, an exceptionally gifted Roman orphan, is abandoned in Gaul . Left to fend for himself, Guiamo is set onto a path of legend. Recognized by the gods as having world-changing talents, he is given a weapon that changes his destiny and the world's forever.
Guiamo Durmius Stolo sails in 55 B.C. with Rome's 7th Legion as Julius Caesar invades Britain. But Caesar has not before encountered the Fomori, a dominion of wicked creatures which wage war against the human inhabitants and dominate much of Britain. Armed with his god-made spear, Guiamo joins with the tribal kings against their Fomori foe when Caesar departs.
Having destroyed the Fomori in Britain , Guiamo Durmius Stolo decides in 51 B.C. to bring the Cruthin people, once slaves to the Fomori, to Ireland , but encounters the Fomori who reside there as well. Guiamo discovers that the gods venerated by the Druids are unworthy. The gods are displeased with him and begin to work against him.
In 50 B.C. Guiamo Durmius Stolo finds himself victor over the detested Fomori whose leader, Cichol, is slain and those few who survived are scattered. Guiamo explores the secret places where Cichol kept his most important secrets and discovers there the treasures of Cichol's master, the goddess Domnu.
Goodreads

*

Creatspace

*

Smashwords
The Author:
Marshall Best
is an avid reader, father of six and business owner. In the past several years he has found his love of writing as well. What began as a desire to write a story for his children has evolved into a nine book series.
Marshall has done extensive research into the history behind the legends, people and places of England, Scotland and Ireland involved in his books. He loves being able to weave real people and legends into his stories making them come alive. He is definitely a writer that tends to the details often mapping out timetables, calendars, geneologies, etc. that pertain to his book to ensure that it is as realistic as possible.
Marshall also enjoys putting real life issues into his books, delving into a bit of philosophy while entertaining with orcs, dragons, magic and battles. He is someone who loves a grand adventure but makes sure it's not a shallow one.
Tour-Wide Giveaway:
-One print set signed by author – world wide giveaway
-One complete e-book set – codes provided to smashwords
-Two winners: e-book of Cumoro and a $5 Amazon gift card each
-Two winners: e-book of Morlanos and a $5 Amazon gift card each
-Two winners: e-book of Inis Emain Ablach and a $5 Amazon gift card each


Ends 12/20. Please see restrictions on Rafflecopter.
a Rafflecopter giveaway
Follow the Chronicles of Guiamo as they unfold on...
The Legendary Tour:
11/25: Launch
12/13: Grande Finale
Sign up to receive invites for upcoming Prism Tours

HERE

!