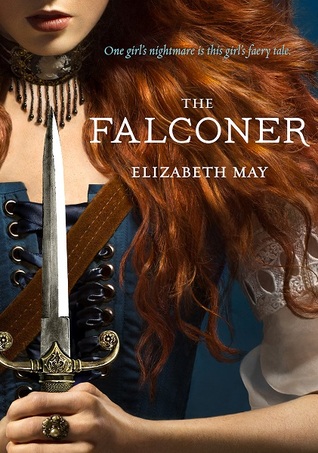 The Falconer
by Elizabeth May
Hardcover, US, 378 pages
Published May 6th 2014 by Chronicle Books

Heiress. Debutant. Murderer. A new generation of heroines has arrived.

Edinburgh, Scotland, 1844

Lady Aileana Kameron, the only daughter of the Marquess of Douglas, was destined for a life carefully planned around Edinburgh's social events – right up until a faery killed her mother.

Now it's the 1844 winter season and Aileana slaughters faeries in secret, in between the endless round of parties, tea and balls. Armed with modified percussion pistols and explosives, she sheds her aristocratic facade every night to go hunting. She's determined to track down the faery who murdered her mother, and to destroy any who prey on humans in the city's many dark alleyways.

But the balance between high society and her private war is a delicate one, and as the fae infiltrate the ballroom and Aileana's father returns home, she has decisions to make. How much is she willing to lose – and just how far will Aileana go for revenge?
My Review:
I seriously LOVED this book. I LOVE IT. Love. Love it.
Aileana, "Kam", is pretty awesome. For kick-butt girls, her falconer heritage and abilities are totally great and she's all kinds of messed-up, multi-layered great. I really like all her faults, the worst of which feels catastrophic. She wants revenge and enjoys the hunt TOO much. It doesn't bite her in this story, but I'm totally freaked out thinking that it has to eventually.
The reason I love, LOVE this book, though?
Kiaran. "MacKay". Wow. He's soooo inhuman, what a powerful faery should be. He makes all those other faeries in books look like mild reflections of the real thing. Like tales of his kind watered down to be more palatable to humans. He's untrustworthy, deceptive, old-old-old and loaded with history that he won't share.
Gavin is a great side character showing the depth of who Kam is or was before and has now become. He might've been perfect except he so isn't.
Derrick wins the "best character in the book" award by far. He's hilarious and provides a bridge of connection between the startling world with fae and the "real" world where no one can see them. The tension grows so tightly strung and Derrick steps in for much-needed relief, snort-out-loud relief. PHEW. He's... like Tinkerbell. Lol. Only (awesomely) different.
I enjoyed Scotland and the way faeries are more like zombies and monsters than "fairies". I loved all the rain and spoken slang. There's so much FUN crammed into one book. I just picked up speed and couldn't slow down... until WHAM! Over the edge at the end, clinging with fingernails that just lost grip.
Don't trust the fae. Just don't. I already knew that, but I want to so badly!! Wow I love MacKay!
5 Stars. Maybe
5.5 Stars
because I can't believe I finished the book and I might have a problem with that which can be fixed by rereading it
right now.
I might be able to wait until the next volume comes out. And I'll DEFINITELY want this book in my collection. Yay for libraries who keep such awesome books handy for hard-working readers like me who link to hang out in libraries!
Elizabeth May
was born in California, where she lived during her formative years before moving to Scotland. She is currently working on her PhD at the University of St Andrews. When she isn't writing or doing academics, she can be found with a camera in hand; her photography has been published on an array of book covers and in magazines.
She currently resides in Edinburgh, Scotland, with her husband. THE FALCONER is her début novel. For more information, follow her on Twitter @_ElizabethMay or visit her website
www.elizabethmaywrites.com
5 Things about Elizabeth May:
1. She penned 9 unpublished manuscripts before finally writing THE FALCONER.
2. Incidentally, she wrote THE FALCONER 3 times to get it right before trying to get it published.
3. Her degrees are in anthropology, and her speciality is folklore. Which comes in handy when writing about Scottish faeries.
4. Sometimes, her face ends up on book covers. This helps her pay university tuition.
5. She wrote her first book at the age of 12, about a half-vampire with amnesia. She hasn't been able to stop writing novels since.