A themed tour through
Prism Book Tours
.
We're Launching the TRAVELING INDIA TOUR for
The Accidental Wife
Come with us as we travel around India and get a taste of its culture and sites!
16th: Launch
17th:
The Written Adventure
Coffee Books & Art
18th:
Mythical Books
My Life Loves and Passion
19th:
A Thousand Words A Million Books
Sarah's StoryLines
Deal Sharing Aunt
20th:
Underneath the Covers
alwaysjoart
22nd:
Mary Terrani
Beck Valley Books
23rd: Grand Finale
Inconvenient Relations is FREE!!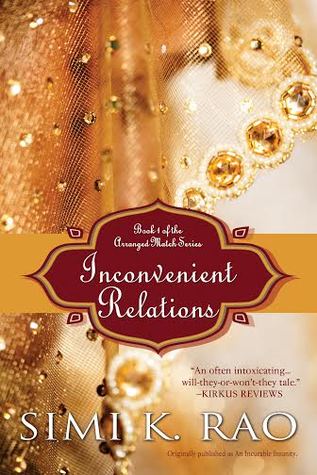 Shaan Ahuja found himself bowing to tradition and agreeing to an arranged marriage to the beautiful Ruhi Sharma. He went through the motions but had no intention of carrying through on his vows. His last foray into matters of the heart with an American girl had left him scarred and unwilling to try again. Thoroughly disillusioned and disgruntled he wasted no time in making his intentions clear to Ruhi on their wedding night. But, he was completely unprepared for what his new wife had in mind.
This multi-cultural contemporary romance story of an arranged marriage is a beautiful blending of showing the Indian and American cultures. Readers will learn more about the Indian heritage and the romance that happens behind closed doors in an Indian relationship in Simi K. Rao's
Inconvenient Relations
. This coming of age story about true love explores multi-cultural issues.
Grab your FREE copy from AMAZON! March 19-23
Adult Contemporary Romance
Paperback & ebook, 270 Pages
March 4th 2015
Some accidents are meant to happen…
Dr. Rihaan Mehta is a brilliant young neurosurgeon who has no inclination for love or marriage. According to him wives and girlfriends are annoying accessories that one can do without. But when his mother dangles the sword over his head in classic Bollywood style, he succumbs, and sets out in search of a bride who would fit his 'requirements'. But can Rihaan deal with what he gets instead?
Rihaan's reluctance to marry clashes with his emerging feelings for his photojournalist wife. Will their contemporary lifestyles and ideas of romance be reconciled with their family's traditional expectations? When an accident results in amnesia, both Rihaan and his 'accidental wife' will begin to re-examine their relationship, but can they discover love together?
Simi K. Rao
was born and grew up in both northern and southern India before relocating to the U.S., where she has lived for several years. Inconvenient Relations is her first published novel.
The inspiration for this book, and her other projects, comes from her own experience with cross-cultural traditions, lifestyles and familial relationships, as well as stories and anecdotes collected from friends, family and acquaintances.
Rao enjoys exploring the dynamics of contemporary American culture blended with Indian customs and heritage to reflect the challenges and opportunities many Indian-American women face in real life.
Much of Rao's down time is devoted to creative pursuits, including writing fiction, poetry and photography. She is an avid traveler and has visited many locations around the world.
A practicing physician, Rao lives in Denver with her family. Her next novel, The Accidental Wife, will be released in early 2015.