Have you read this one, yet? GO GET IT!!!!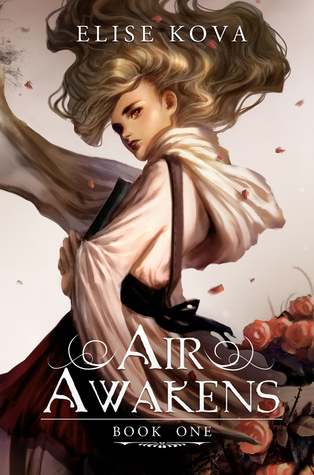 Air Awakens
by Elise Kova
I found this book while searching for good Indie romantic fantasy titles. I love the idea that Vhalla Yarl works in a library. And she's good at it, reading more than allowed and all the good stuff people who work in ancient libraries should do.
I really enjoyed Vhalla's character, too. She's smart... not entitled, not awe-struck, not ambitious... she's humble and I loved her room with the rock walls. I could picture myself living in that old stone castle looking with longing at the itty-bitty window. I related to Vhalla and my only complaint was that I heard her first and last name together so often that the odd name stuck in my head.
Aldrik enters the scene, slipping through a back-door by surprise. He's the "un-cool" heir to the empire, dark, brooding, frightening. If he has a heart, he buried it deeply years and years ago. I loved him immediately and even more when Vhalla finds him working in the rose atrium. It was a scene straight out of Robin McKinley's
Rose Daughter
where the beast was slightly more human and the girl a bit more feisty.
Honestly, in this first book, Aldrik is PERFECT. Unapproachable with bare moments when his heart is visible before hiding behind a thundercloud again. I thought he was one of the best guys in literature EVER. Read this book just to meet him. It's worth it.
The world is big and bright and beautiful... touchable. Magic is unique, inherent in some people, randomly gifted and feared by the rest of the population. Vhalla's magic is the most feared, of course, and as she grows into accepting it... she is burdened with quite the destiny and lack of choices. I loved the grit and solid reality. I really loved this book.
Still, I gave it 4 stars. Sometimes Vhalla floats along the current of whatever is happening without using the brain she obviously has. Sometimes Aldrik forgets he's beastly, darn it. As for the world... if magic hits people randomly, how come more of them haven't learned to tolerate it? "Random" includes people already well-loved, sprinkled everywhere. Yes, I liked the story, but I also corrected a few things in my own imagination that did not help me when I read along further in the series. *sigh*
Don't listen to my lil' fuss, though... go get this and READ IT!!! The author threw this delicious piece of art onto paper and self-published it and do we not need to celebrate such awesomeness?! Oh, yes we do!!