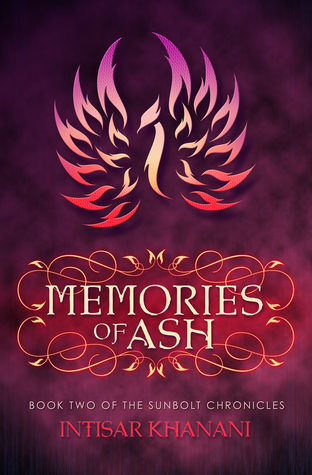 Title: Memories of Ash
Series: The Sunbolt Chronicles, Book Two
Author: Intisar Khanani (
http://booksbyintisar.com
)
Cover Designer: Jenny Zemanek (
http://www.seedlingsonline.com/index2.php#!/HOME
)
Genre: Young Adult Fantasy
Release Date: May 30, 2016
Publisher: Purple Monkey Press
Price: US $3.99 (eBook), US $TBD (paperback)
In the year since she cast her sunbolt, Hitomi has recovered only a handful of memories. But the truths of the past have a tendency to come calling, and an isolated mountain fastness can offer only so much shelter. When the High Council of Mages summons Brigit Stormwind to stand trial for treason, Hitomi knows her mentor won't return—not with Arch Mage Blackflame behind the charges.
Armed only with her magic and her wits, Hitomi vows to free her mentor from unjust imprisonment. She must traverse spell-cursed lands and barren deserts, facing powerful ancient enchantments and navigating bitter enmities, as she races to reach the High Council. There, she reunites with old friends, planning a rescue equal parts magic and trickery.
If she succeeds, Hitomi will be hunted the rest of her life. If she fails, she'll face the ultimate punishment: enslavement to the High Council, her magic slowly drained until she dies.
Add to Goodreads:
https://www.goodreads.com/book/show/17969479-memories-of-ash
Purchase Your Copy of Sunbolt Here:
Amazon
|  
Barnes & Noble
 |  
Apple
  |  
Kobo
Intisar Khanani grew up a nomad and world traveler. Born in Wisconsin, she has lived in five different states as well as in Jeddah on the coast of the Red Sea. She first remembers seeing snow on a wintry street in Zurich, Switzerland, and vaguely recollects having breakfast with the orangutans at the Singapore Zoo when she was five. She currently resides in Cincinnati, Ohio, with her husband and two young daughters.
Until recently, Intisar wrote grants and developed projects to address community health with the Cincinnati Health Department, which was as close as she could get to saving the world. Now she focuses her time on her two passions: raising her family and writing fantasy.  Intisar's current projects include a companion trilogy to
Thorn
, following the heroine introduced in her free short story
The Bone Knife
, and The Sunbolt Chronicles, an epic series following a street thief with a propensity to play hero when people need saving, and her nemesis, a dark mage intent on taking over the Eleven Kingdoms.
I think I love Intisar.
Seriously. I could just wait around at her feet for the next drop of writing she wants to share with us and devour it before it is published and then hunger for more of her writing until she can produce some more. It's a little embarrassing.
I loved Sunbolt and Memories of Ash did not disappoint. Hitomi is still the amazing character she ever was, full-fleshed, strugglingly-real-live, breathing person that I wish I could meet some day. She gambles and sometimes the odds fall in her favor and sometimes they don't, which is so realistic, it keeps me on the edge of my toes.
In the excerpt below, she made a quick decision while fleeing this mage and basically finds herself in the fire instead of the frying pan... only the mage she's fleeing has also joined her and, as you can see, does not have her best interest in mind. Ha.
I also like this excerpt because of the voice in her head. In this scene, it is as confusing as it seems, but in a spoilery-ish hint at awesomeness to come, this voice is a well-known, feared & beloved character from the first book making a rather ominous appearance in her head. WHO THINKS OF THIS KIND OF STUFF?!
Not only are the twists and turns unpredictable and fun, there is this HEA flavor that tastes a bit like resignation, but helps me, the reader, accept some awful choices and hope for the best. That hope just keeps flowing - a trickle to a steady stream.
I like this story in a
5.5 Stars
sort of way. I can't wait to read it again and I will treasure it for many more re-reads to come. Just as soon as I have another volume to the story, Intisar.
It is coming soon, right?
Get back!
I barely register the words ringing in my mind before the mage shoves me, hard. I swallow a scream, throwing my arms up to shield my head as I fall. I slam down the stairs, bouncing toward the mass of tentacles.
Feet first—get your feet first!
I follow the shouted advice mindlessly, twisting my body as I come to a stop amidst a tangle of three or four great tentacles.
Don't move.
Someone is talking inside my head, and it's not me. Somehow, that's almost worse than lying surrounded by the talons of a nightmare monster. Almost.
Tour-wide giveaway (INTL)
a Kindle Fire (or $50 GC for international winners)
https://www.rafflecopter.com/rafl/display/420b392212/