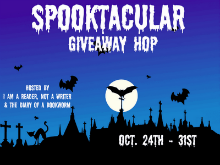 WooHOOOOO!!!!
I'm pretty excited. And FORTUNATELY for every happy soul that swings through my site, I'm also CLUELESS!! Yay!!
That means... I'm going to give a
FREE BOOK
to the winner from Amazon or Barnes & Noble or the Book Depository. (You can be creative. Maybe pick an Upcoming New Release? Or one of these delightful books I'm buying on Nov 2nd, anyway.)
My HUGE REQUIREMENT is that you Follow....
and
Comment. That gets ya in the drawing (no fancy-schmancy multiple entries here, folks). I'll draw on the 1st and notify (and verify title) by the 2nd - so make sure I can find you (logically.)
PLEASE LET ME KNOW WHAT BOOK. Although, I'm cool with waiting to see what all ya win before ya pick, just in case you win multiple copies of your all-time favorite. (Just trying to imagine all the contingencies.)
The small print would be... that I can limit the choice to something competitively priced.
And..... HAVE FUN!!!!
THIS GIVEAWAY IS NOW CLOSED. WINNER WILL BE CONTACTED 11/2/2011