Sweetness!! In celebration of
100 FEATURE & FOLLOW
S, we're having a Giveaway Hop!! How awesome is that?!
FF is hosted by
Parajunkee's View
&
Alison Can Read
. And in the spirit of visiting and following, we all get to pick our very own blog to FEATURE!! :-D
I am Featuring the awesome dragon eyed
Red Headed Bookworm
... who visits often!! If I could give Heather & Jessica an award for Pretty Button, I would. LOVE YOUR BUTTON, LADIES!!!!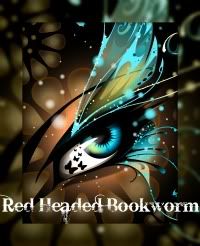 And your attitude, of course. You're loaded with snark & opinion and that's totally AWESOME!! I stole these snippets off of their
About Me page
because I was throwing a birthday party today... and thinking about throwing a birthday party all week. Lol. I have cupcakes on the brain a the moment!! But let me introduce these two awesome bloggers:
Hi,

Heather

here. Wanna know a little about me? Ok, but you asked for it! Well, I am a wife and a mother and I currently work part time as an in-home caregiver. Pretty boring, right? Well, I love it! Maybe in the next life I'll try something exciting like super hero! Who doesn't love super heroes?
Hello people. My name is Jessica or

Jessie

if you prefer. You are in for a treat today! Not only do you get to learn a little bit about me (you're so lucky!) You also get to hear (or read) my opinions! And let me tell you my opinions are great! (I am very wise) One of the first things you will probably notice about me is my humble nature and quiet modesty (it's hard to miss it). It's a part of what makes me so great... My biggest love in life (not including friends and family……..okay, not including some friends and family…YOU KNOW WHO YOU ARE) is my kindle. I live and breathe for it... I usually knock out about a book a day, sometimes more, not very often, but sometimes less.
This is funky, but I'm offering any book off of their
Wishlist
!! (Hey, it's a good one!!)
Giveaway Rules: Must be 13, able to rec'v from
The Book Depository
, open internationally... all that is detailed under
About Me.
Link up to the Giveaway Hop on the host sites!! Enjoy these great giveaways!!
a Rafflecopter giveaway