Daughter of the Sky
by Michelle Diener
Paperback, 340 pages
Published March 1st 2013 by Michelle Diener
Premise:
The Victorian Empire has declared war on the Zulus if they don't accede to their outrageous demands. The clock is ticking down to the appointed hour. With no idea why the British are marching three massive columns of men and guns towards them, one Zulu general is prepared to take an impossible risk. But the life he's gambling with isn't his own . . .
The sole survivor of a shipwreck off the Zululand coast, 15 year-old Elizabeth Jones is taken in by the Zulus, the people of the sky. Six years later, her white skin becomes useful to the Zulu army as they try to work out why the Victorian Empire has pointed their war-machine at the Zulu nation. Elizabeth is suddenly Zululand's most important spy.
While infiltrating the British camp, Elizabeth's disguise as a young soldier is uncovered almost immediately by Captain Jack Burdell. However, he believes the tale she spins of searching for a missing brother and shields her from discovery, allowing her to bunk in his tent and giving her a job as his batman. Burdell is war-weary and disillusioned - no longer willing to follow regulations at all costs.
But as Elizabeth and Jack explore their growing attraction to each other, the two armies move towards their inevitable clash. Elizabeth is torn between the guilt of betrayal and her fierce loyalty to her Zulu family, and when Zulu and British meet on the battlefield, both she and Jack find their hearts and their lives caught in the crossfire.
My Review:
This book was like a leap into another age and different culture for me
. There are so many things I loved… the
Zulus
. Wow. I love their pride, their loyalty, their respect for each other.
Elizabeth is known as Inyoni
, the bird… the daughter of sky, she rises out of lightning and a sinking ship to embrace her Zulu family. The way she becomes the sister of the
Lindani
who rescues her… he brings the beauty and depth of the Zulu people alive.
Jack Burdell is a great contrast. He sees Elizabeth as a woman, even when she's hiding in the British army as a soldier. He is enthralled with the wild, Zulu side of her and they have so much in common with their family roots. I really love their attraction. There's so much hesitation, potential for misunderstanding, false starts… and all that sensual tension. Their love-making dips into the adult spectrum with the wild abandoned joy of Elizabeth's Zulu-learned love of life.


Very sadly for me, and yet richer for it, this book balances the heights of love with the depths of war… or rather, the other way around. With adult-flavored nitty-grittiness, the two armies line up against each other, the Zulus against the British in what can only end in tragedy. The details of the 1st's and 24th's describing which battalion or column went where got knotted up in my brain. I really tried to pay attention and piece it out, too… figuring who went where, who stayed, who was who… there were a lot of details. I wanted to point out that they detracted from the story. Lol. Until I read the Epilogue and saw how meticulously true to history these details were.


Suddenly… I realized that this book isn't just a great story with characters that stole my heart and an entire way of life that I will remember forever… but it's a crazy-great history lesson in what happened to the Zulus when the British invaded their land in Africa. Without realizing I was swallowing so much historical accuracy, I gobbled up a book I could hardly put down. Talk about taking yer medicine with a spoonful of sugar!!


In short… this book is fast-paced and full of tension. The characters are multi-dimensional and amazing. The POV changes some with diary entries and random letters home interspersed with military notes. The story dives into adult themes that leave me sighing at the end, satisfied just enough, but also weeping inside over injustices. I am glad that I read this book and I'll remember it.

Anyone interested in this historical time period of Britain or Africa and especially the Zulus should read this book, absolutely. Must. I also recommend this book to anyone interested in a historic romance or strategic war… different cultures. This is the sort of book that would be awesome as assigned literature. Lol. It's accurate enough and yet so rich in storytelling, too.
My Rating: 4.65
- If I was handing this book to myself... I would tell myself to not sweat over the strategic details. I would say, "Just enjoy the story... it's amazing." I might also hand myself a box of tissues.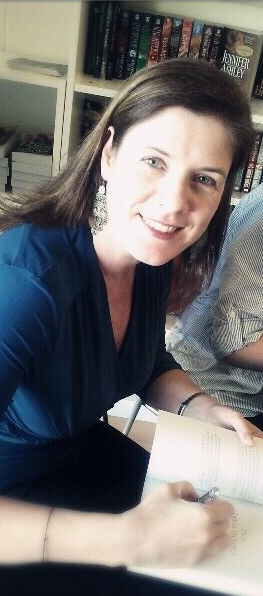 Michelle Diener
writes historical fiction. Her Susanna Horenbout and John Parker series starts with
IN A TREACHEROUS COURT
. Set in the court of Henry VIII, it features the real historical figures of artist Susanna Horenbout and Henry's Keeper of the Palace of Westminster and Yeoman of the King's Robes, John Parker. It was followed by
KEEPER OF THE KING'S SECRETS
, also featuring Susanna Horenbout and John Parker, and
DANGEROUS SANCTUARY
, a short story with the same characters, set between the two books, is currently available as an ebook only.
A new historical novel, set during the Napoleonic Wars in London in 1811,
THE EMPEROR'S CONSPIRACY
, is set for a November 27th, 2012 release.
Michelle also contributed a short paranormal story to the
ENTANGLED
entitled BREAKING OUT. All the proceeds of the sale of ENTANGLED go to the Breast Cancer Research Foundation.
Michelle grew up in South Africa, and now lives in Australia with her husband and two children
Get Your Copy:
Barnes & Noble
Amazon:
$3.99
See my review of The Emperor's Conspiracy by Michelle Diener