Mortal Heart
by Robin LaFevers
Hardcover, 464 pages
Published November 4th 2014 by HMH Books for Young Readers
Annith has watched her gifted sisters at the convent come and go, carrying out their dark dealings in the name of St. Mortain, patiently awaiting her own turn to serve Death. But her worst fears are realized when she discovers she is being groomed by the abbess as a Seeress, to be forever sequestered in the rock and stone womb of the convent. Feeling sorely betrayed, Annith decides to strike out on her own.

She has spent her whole life training to be an assassin. Just because the convent has changed its mind doesn't mean she has...
My Review:
This is one of those books I hold so close to my heart that I don't want to admit how much it meant. Occasionally I run into that... some story line or fictional character that seems to grab hold of my spine and slip it right out of my skin. Spine/gut/heart... something gross and deep and hidden and dark and secret.
Before I unload the dark stuff, lemme say some logical intelligent stuff.
Annith's story interweaves with Ismae's & Sybella's lives. There's all the dark shadows and political intrigue of the first two books, except the story is picked up from another location and carried through to a satisfying close. I love the layers of activities happening everywhere, all the secrets and shadows. Delicious shadows.
I love how Annith is so different from Ismae and Sybella. I think I love Ismae best, still, but Annith...
Well, the heart of all of these story lines is the spiritual world. Ismae met Mortain face to face. The world of old gods is as intricate and complicated as the political dynamics of the country and who has blood right to which throne. Mortal Heart takes us deeper into this part of the story, as the name suggests, I suppose. And this is the part of the story that totally won me over. Yes, Annith experiences romance and yes, it is gradual, natural and amazing (and dark and mysterious and full of shadows), but there is a revelation at one point that makes the entire series re-align with new meaning. Or it did, for me. All of a sudden, I saw the spiritual world from another point of view... not immortal and omniscient, like I think of God, but touchable, breakable, kill-able. Close. *shiver*
This is the part that touches a little too deep to chit-chat about. The moment the awesome becomes the tangible. Um... like "He became flesh and dwelt among us". Yeah, I wanna quote Bible. It's all THAT suddenly arriving HERE. And not just "here" like, anywhere, but
here
... with
me.
Mine. All mine and
only mine.
No wonder I don't try to put that in words. Ha.
My perspective of the romance in this story is so personal I'm not even sure Robin LaFevers intended to bury what I uncovered. Which is a little embarrassing and quite a bit like going to church... in a mountain meadow with just the expanse of sky.
5.5 Stars.
5 stars for depth of character and character growth. 5 stars for plot, speed of story, real danger, real resolution. 5 stars for the writing. An additional cherry-on-top of .5 stars for re-read-ability. I can't wait to read this book a second time. I read an early copy from Edelweiss and my pre-ordered print copy has not yet arrived in the mail. However, Tressa (who wrote a
great review)
is seeing Robin tonight and has offered to get me a signed copy, EEEEEP!!!!!!! Yes, please!!!! Maybe I'll have an extra copy to give away soon, ya?
My other reviews of Robin's books:
Yeah, she's awesome like that.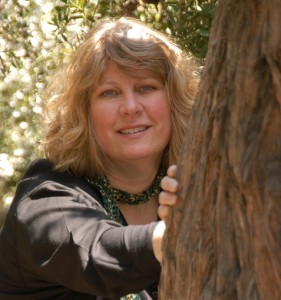 Robin LaFevers
was raised on a steady diet of fairy tales, Bulfinch's mythology, and 19th century poetry. It is not surprising she grew up to be a hopeless romantic.
Though she has never trained as an assassin or joined a convent, she did attend Catholic school for three years, which instilled in her a deep fascination with sacred rituals and the concept of the Divine. She has been on a search for answers to life's mysteries ever since.
While many of those answers still elude her, she was lucky enough to find her one true love, and is living happily ever after with him in the foothills of southern California.
In addition to writing about teen assassin nuns in medieval Brittany, she writes books for middle grade readers, including the Theodosia books and the Nathaniel Fludd, Beastologist series. You can learn more about those books at
www.rllafevers.com
.